This was a very busy day for an old man. Jim had devotionals for the staff at 8:30am then Dottie and I left immediately for El Tejar to support Pastor Teddie as they dedicate a new school for the poorest children in that area.
 The 1900 Christmas cards are printed so I am awaiting the arrival of the envelopes from Debbie. Since we are not going to the states until September I can write them, insert the 2ndphoto and have them ready for November when Debbie will mail them.
A team from Ohio arrived and I gave them my testimony.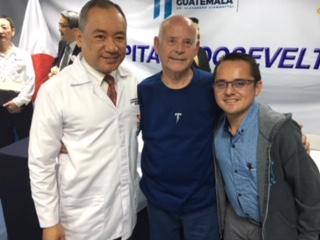 12/30/2003. It is so sad what some of the children go through in their young lives. Mary (not her real name) was removed from her family because her father killed two men in a bar fight. He was sent to prison and her mother could no longer care for Mary and her younger sister. For 12 years she hated her father because he had caused the family to breakup. But recently she was saved and asked if I would take her to the prison so that she could forgive him. We went and she led her father to Jesus. After he served 15 years he became a pastor due to Chuck Colson's ministry
Then Mary wanted to go see her mother and the response by the mother was to scream at her and throw food in her face. She was drunk and just broke Mary's heart.
We took Estella to the airport to return to Tennessee to continue her studies.
12/31. The year ended today with a ministry known as Camp Decision coming and spending the day with the children. They had cancelled their trip last November due to the violence in Guatemala. They are planning on hosting a camp for 120 of our children soon.
Dottie and I want to thank you for helping to make 2003so successful. Many children were saved. Many teams came and helped our children. It seemed like we had construction going on every month.