The stoppages were tree roots growing through the pipes.
The Maryland team arrived and had s'more & a piñata for the three youngest dorms.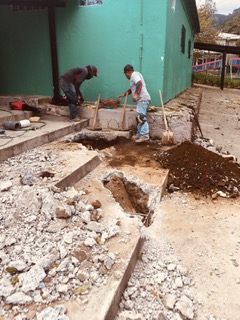 10/16/2003. Construction is everywhere as Ricardo is digging a canal and a water deposit to handle the heavy rains. Brennan, Wayne, John and Aaron are working on the rest rooms at the school. They tore out the walls and are putting in concrete walls. The teachers and high school seniors are building a stage for the graduation exercises. The teenagers raised the money for the materials. Dottie and I began separating the Christmas gifts from sponsors. Also a church sent sleeping bags for two dorms.
10/17. Jorge is the latest of our teenagers to be robbed at gunpoint returning home from his school in the city. They stole his money but he was able to slip his graduation ring off his finger and hide it. I surprised Dottie with photographs I had enlarged to 8 by 12. They were photos from her childhood through high school. In reality they were for me because I just enjoy looking at her. I had gotten them from a file at the Crossett, Arkansas library. Carlos told me that we only had 2 students fail in junior high which is the least ever. So many of our children come here with little or on education at all.
10/18. Jony II broke his arm so badly that it required surgery. Wendy took him to Chimaltenango to the hospital. Wendy is a nurse from Alabama and the National Director of Nursing happened to be there. The director asked her if she would be interested in teaching nursing classes. She even told Wendy that if she taught classes then they in turn would do free surgeries for Casa.
Dottie and I took the seniors out for a steak dinner.