The work the American visitors have done the last 2 weeks has been awesome. So much has been done on the new visitor's dorm as well as the mechanical cow building so we are within days of occupying both. The roof is on the hospital so now comes the stucco and installation of windows and then painting and the tile flooring. It is tremendous to see how fast it is happening.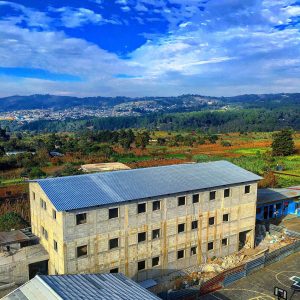 Dottie reading to Michelle & Marissa
You and I have tremendous power to affect a life. As I have been considering what I will be doing in the future O keep thinking of the word encouragement. With all of the children we have at Casa I was thinking of how many hugs and kisses I give in a normal day. It truly ampunts to hundreds.
Why do the children run up to me over and over again as I walk about the property? It is because everyone of us wants to be somebody. We all want to be known. We all want to be important. We all want to be noticed.
Somebody once said "Nobody cares how much you know until they know how much you care."  Each and every child at Casa wants to know what I feel towards them. They want to know if I "see" them. Are they just a number to me? Are they an individual person for whom I care? There is a huge difference.
Do I invest in them? Do I give them an opportunity to succeed and become someone? That is what they want to know. They want me to care.They want me to love them individually.